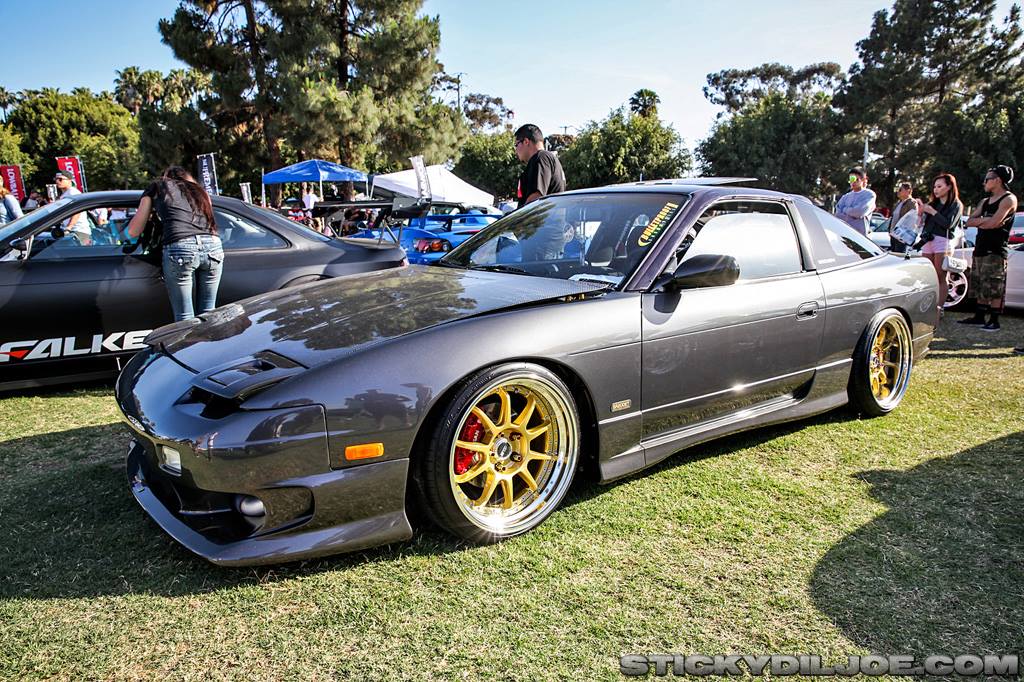 Richard Rubio is what you could call a dyed in the wool Nissan fanatic, between him and his brother they have owned four S-chassis cars. That may not sound like an especially large amount of cars when considering that S13s have become practically disposable in recent years, but that is exactly what sets the Rubio brothers apart from the average enthusiast. Instead of half-assedly "building" and thrashing a car only to move onto the next on a whim, Richard has thoroughly modified his S13, adding his personal touch to every aspect of the vehicle using only the best parts available. The amount of detail oriented work put into this car is insane and I can only imagine how patient this man must be – considering that many of the parts used in the construction of this car are beyond rare and all are of very high quality.

The exterior of this S13 is immaculate although understated, from the Top Secret front bumper, OEM Nissan kouki 180sx aero package to the Graphite Grey paint borrowed from the 40th anniversary 370Z, nothing screams for attention. There are no fluorescent colors, the ride height and wheel fitment are tasteful and functional, there is nothing "extreme" about this car. This car does not need to request the attention that it already receives and deserves.
It is commonly accepted that wheel choice can make or break a car, not only the design of the wheel but the sizing plays a huge part in aesthetically tying together the entire package. In this case, Richard wisely chose a set of SSR Professor SP3s in Touring Gold – sized 18×9 +16 up front and 18×10 +11 in the rear, with MD profile front disks to clear the 300ZX brakes and SL rear disks to maximize lip depth. HKS Hipermax RS coilovers bring the ride height down until the wheels fill the arches perfectly, the polished lips sitting just even with the fenders.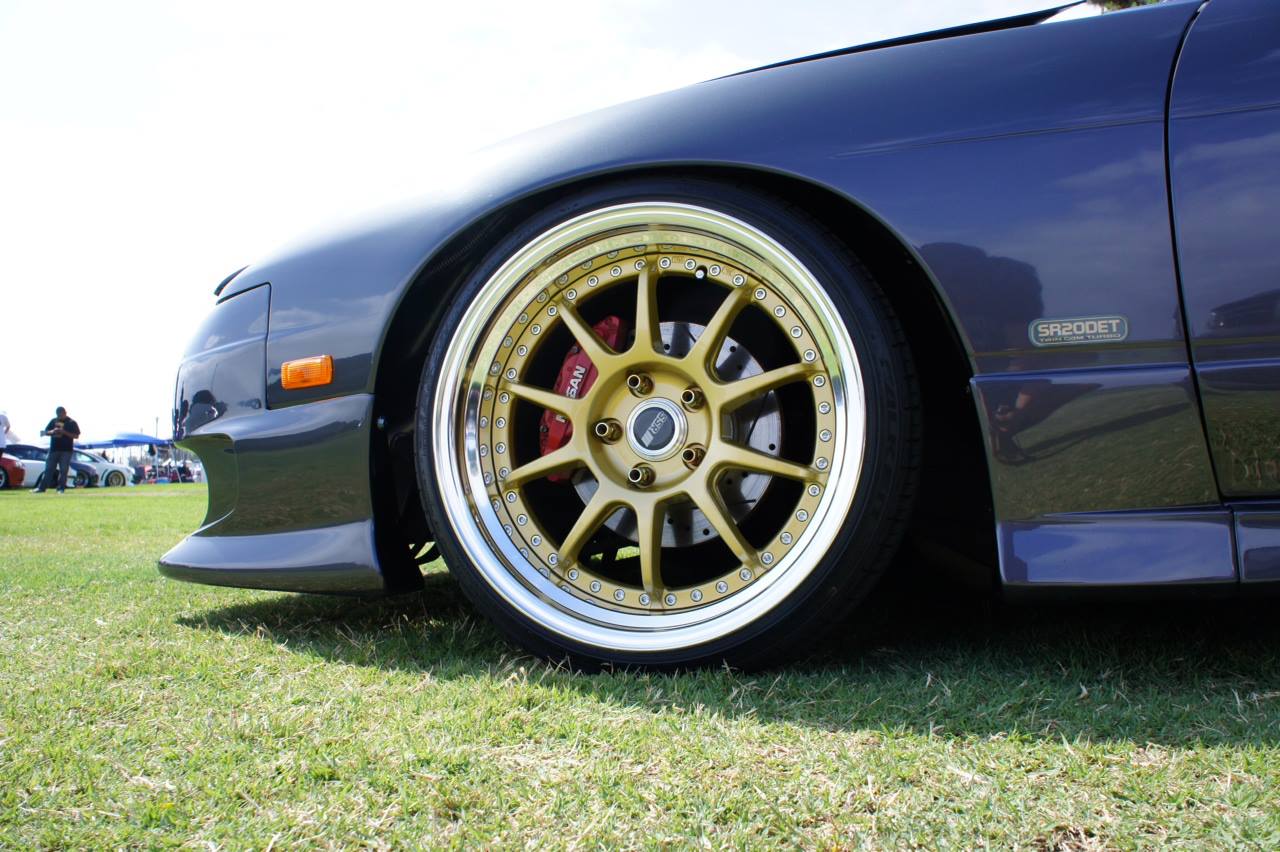 Richard insists that building a car has much to do with overall balance. The car must look good, ride well and have good power characteristics. With that being said, you can rest assured that this car is no slouch. Nothing over the top but definitely more than enough power to have fun, and most importantly – great throttle response and power delivery. A turbocharged SR20 has taken the place of the original KA24, a huge upgrade in itself – but Richard didn't stop there, the engine has been fortified with a very impressive list of bolt on parts – the vast majority being Japanese in origin. The already robust internals have been left original, in both the block and in the head, really going to show what this engine is capable of without sacrificing reliability.
The most impressive of this car's many outstanding traits is the number of years spent under Richard's ownership. For the past decade this car has had one owner, every modification made has been a part of one man's vision, while this vision changed with time, naturally evolving with the relationship between man and machine, it still managed to stay true to its origin. I'm sure there were times when Richard simply wanted to quit – building a car from the ground up is no small feat, but as you can see, perseverance pays off. After all anybody can throw together a flashy car, put it on the ground and claim their fifteen minutes of fame – and many do, but fifteen minutes just sounds so incredibly irrelevant when compared to ten years.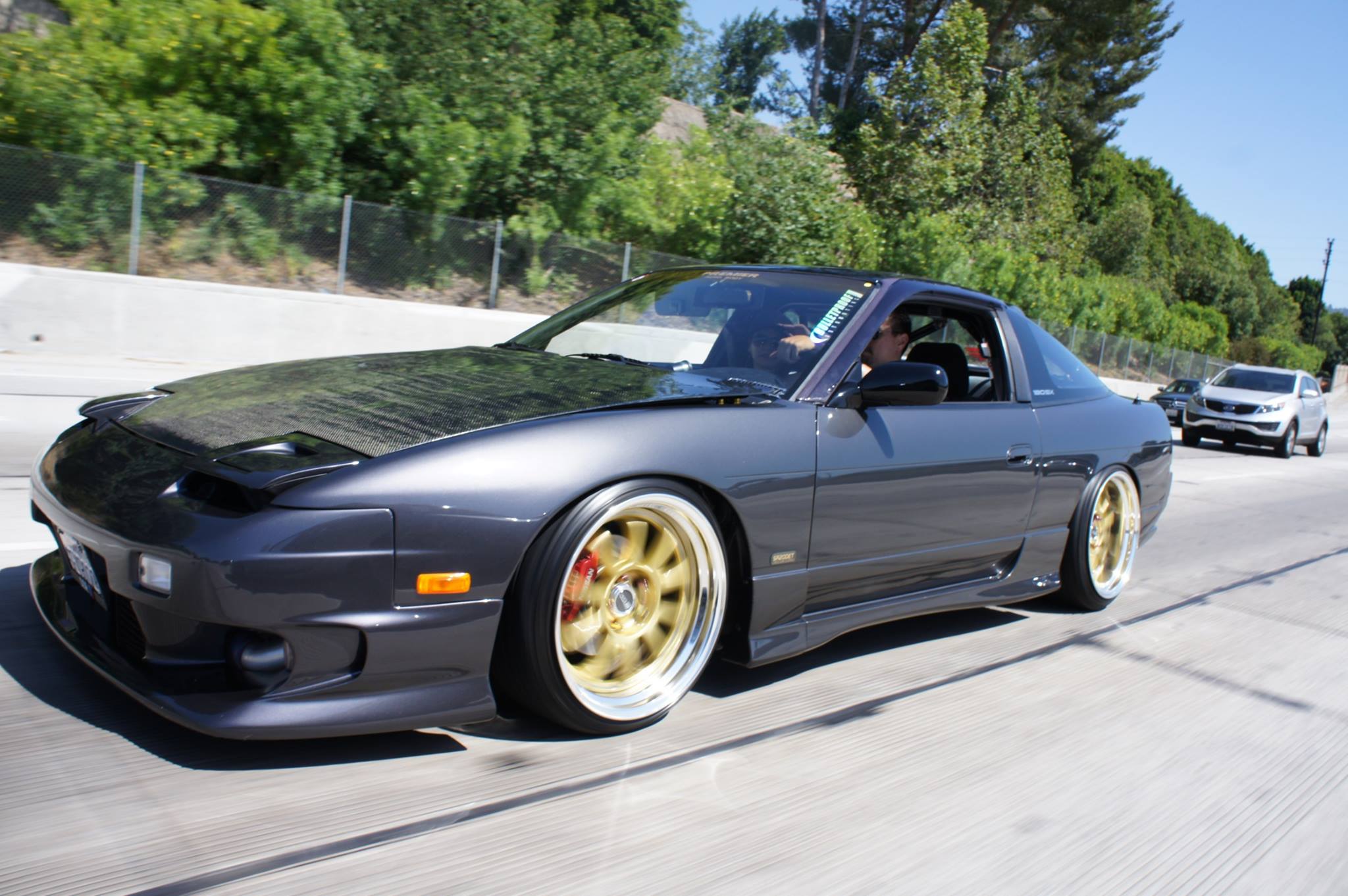 Owner: Richard Rubio
1990 Nissan 240sx
Engine/Transmission
• JDM '94 Nissan Blacktop SR20DET (tuned 247 whp/ 249 trq @ 17lbs)
• HKS Purple powder coated Valve Cover
• HKS SSQ BOV Limited Edition Black
• Titek Carbon Fiber Spark Plug Cover
• Trust VSpec FMIC
• GReddy 3inch Intake Pipe
• GReddy Pulley Kit
• Trust Turbo Outlet Pipe
• Trust 80mm Downpipe
• Trust 80mm Test Pipe
• Trust Power Extreme II Exhaust
• Sun Auto Hot Earth Exhaust Ground System
• Tomei Expreme Exhaust Manifold
• Tomei 555cc Injectors
• Enjuku Racing 2.25 Hotpipe
• Z32 MAF
• A'PEXi Power Intake
• TOP SECRET Titanium Oil Cap
• Koyo Aluminum Radiator
• Moonface Radiator Cap
• Power Enterprises Pulley Belts
• Samco Black Radiator Hoses
• Exedy Stage II Clutch
• JUN Lightweight Flywheel
• B&M Short Shifter
• Upgrade Motoring Stainless Clutch Line
• Nismo Low Temp Thermostat
• Nismo Motor Mounts & Exhaust Hangers
• JDM S14 SR20det Water pump
• Z32 Fuel Filter
• Walboro 255 Fuel Pump
• NGK Iridium step colder plugs
• Signal Auto Cooling plate
• Cusco Oil Catch Can
• Neo Synthetics
Electronics
• GReddy PRofec e-01 Boost Controller
• GReddy Boost Cut Limiter
• Greddy Boost gauge
• A'PEXi SAFC II
Stiff Stuff
• HKS Hipermax RS Coilovers
• Safety 21 4-Point Roll Cage w/ Cusco Carbon Fiber Slash Bar
• Cusco Carbon Fiber Type ALC-OS front Strut Bar
• Cusco Carbon Fiber Type CB w/ Type OS-T (V-brace) rear Strut Bar
• Custom C-Pillar bar
• Powered By Max Subframe collars
• Energy Suspension Master Bushing Kit
Wheels/ Brakes
• SSR Professor SP3 18×9 +16 (f), 18×10 +11 (r)
• Falken ZIEX ZE-912 rubber 215/35 (f), 235/35 (r)
• Ichiba 5 Lug Conversion
• Z32 30mm Front Brakes
• Brembo Cross Drilled Rotors Front and combo Rear
• Endless Brake Pads
• Upgrade Motoring Stainless Brake Lines
Exterior
• Nissan 370Z 40th Anniversary Graphite Grey PPG Paint
• JDM TOP SECRET 180SX Front Bumper (The Only one in the US)
• JDM 180sx Type-X Kouki Taillights
• JDM 180sx Type-X Side Skirts
• JDM 180sx Type-X Rear Valence
• JDM 180sx Window Visors
• JDM 180SX Side Markers
• JDM SR20DET Twin Cam Turbo Emblems
• JDM RPS13 Carbon Kevlar Tail Cover
• JDM Origin Carbon Fiber Roof Wing
• Attain Carbon Fiber GT Exhaust Shield
• HASEPRO Carbon Fiber Pillars
• 6k HID's
Interior
• JDM 180sx Type-X Seats (front & rear)
• Takata 4 point Drift II harness
• JDM Origin Checkered Floor Mats
• MoonFace
Titanium Blue Shift knob
• Kazama Drift E-brake button
• Vertex 10th Anniversary 330mm Deep Corn Steering Wheel
• Works Bell Hub
• Works Bell Rapfix Quick Release – Yoshioka Special Edition
• Custom flocked dash and door panels
• JDM Silvia Gauge Cluster w/ Carbon Fiber cluster cover
• Alpine iPod head unit
• Sony Xplod 6.5 Component speakers in front
• Sony Xplod 6×9 4 way speakers in rear
• Memphis Audio 12" Sub
• Memphis Audio Amp
• Rockford Fosgate wiring throughout
Photo Credit: Joey Lee, The Chronicles