Regarding SSR wheels, we always get calls from customers asking what HP, MD, NR, SL are.  Well, if you are in wheel business, you probably understand the meaning and the differences of it.  Here is what they stand for:
HP = Hyper Disk or High Pad
MD = Medium Disk
NR = Normal Disk or Low disk
SL = Super Low disk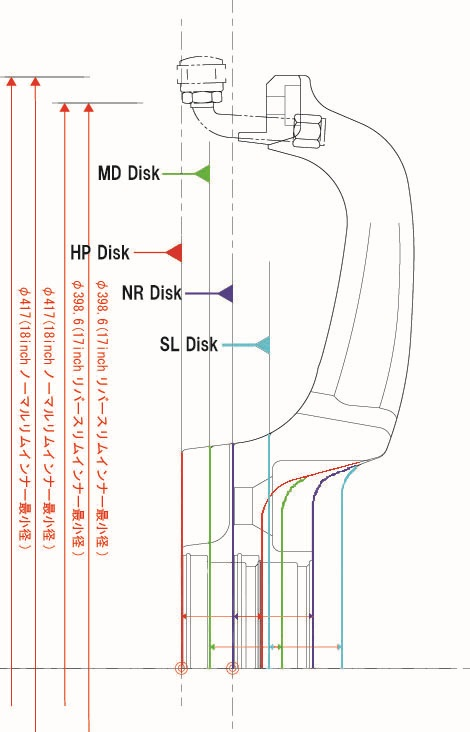 *Picture shown above:  17 inch SSR SP3R / 18 inch SSR SP3 side view.
By looking at the picture, it should give you a better understanding of each disks, and their differences.  Noted that, the face or spoke shape won't change despite different disk types.   Let's look at the deeper meaning of them.
Hyper disk has the greatest brake clearance among other type of disks, however it sacrifices the lip size.  Many new vehicles these days come equipped with Big brake Kits (Ex. Brembo, Akebono) from Factory, such as Evo 8-10, Infiniti G37, Nissan 370Z, or Subaru STi.  These vehicles would definitely need Hyper disk wheels in order to clear the brake calipers.
Medium disk has less clearance than HP disk by 10mm.  It can be used on some vehicles with upgrade big brake kits but does not require Hyper disk.
Normal or Low disk is the most popular disk type, as it clears most of the OEM factory front and rear brakes (non BBK).   Normal disk has less clearance than HP disk by 17mm.
Super Low disk give the most lip size possible.   It is the most wanted disk for people who want the biggest lip.   It has less clearance than HP disk by 30mm.
FYI, these are just the basic information that might help you understand the differences of the disks.  However, there are few more things to be considered when customizing size and offset of wheel to fit vehicles.