Tanabe Sustec Front Under Brace
2008-2013 Mitsubishi Lancer Evolution X
PART# TUB139F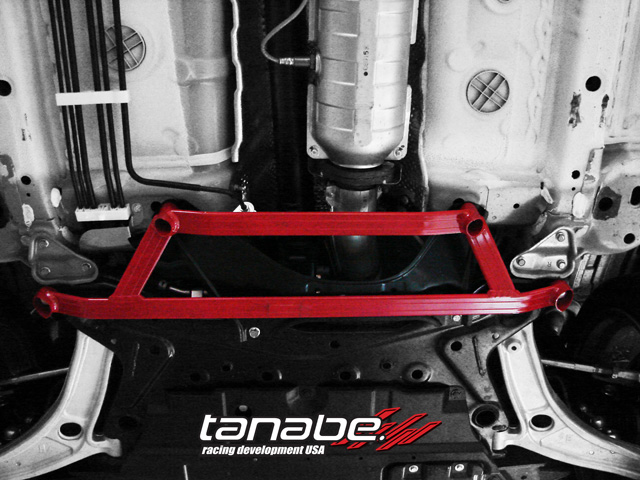 When considering chassis rigidity modifications, one of the most popular items to get is a strut tower bar. But often overlooked is the fact that chassis flex happens UNDER the car too! Tanabe Under Brace is strong and light, and it will help to brace the front subframe's structure. This is important in cars such as the Evo X because much of the car's weight is on the front, and thus it sees a great deal of cornering load, especially under hard driving. Our bar keeps the chassis straight, while transferring corner loads away from the unibody and onto the suspension, where it belongs!
Key Points:
Increased Chassis Stiffness
Light Weight
Ground Clearance
Double I-Beam Construction
Powdercoated

Increased Chassis Stiffness
The flexing of the unibody can compromise handling of the vehicle. Therefore, it is important to reinforce the chassis. Our Under Brace can prevent undesirable handling behaviours by connecting specific point of the undercarriage. This prevents the unibody from flexing and result in a stiffer chassis and tighter handling.
Light Weight
Weight becomes an issue when applying additional chassis componets. Our Under Brace is made with ultra lightweight, reinforced aluminum giving you an edge on handling without the undesired extra weight.
Ground Clearance
Engineered to be one with the vehicle, the Under Brace tucks snuggly under the undercarriage. Because the bar is shaped like a flat oval, it has the ability to mount high in the chassis.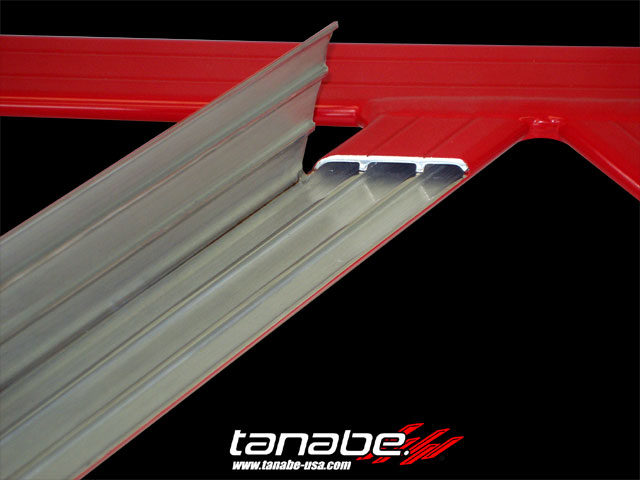 Double I-Beam Construction
The Tanabe Under Brace is designed with double i-beam construction. This helps the bar achieve its high level of rigidity and is one aspect that separates our bar from those made by other brands. The Under Brace is not just a simple series of tubes welded together. In fact, a lot of R&D goes into the design of this chassis component to ensure that its structure will be the strongest possible. When put into perspective, understand that the Tanabe Under Brace supports hundred of pounds of force under hard driving conditions… successfully.
Powdercoated Red
In order to help prevent rust, the Tanabe Under Brace is powdercoatd red. As many of you know, powdercoating generally leaves a much stronger finish than painting. This helps the bar survive through harsh conditions where snow and rain are present. And it provides extra protection from scratching by road debris.