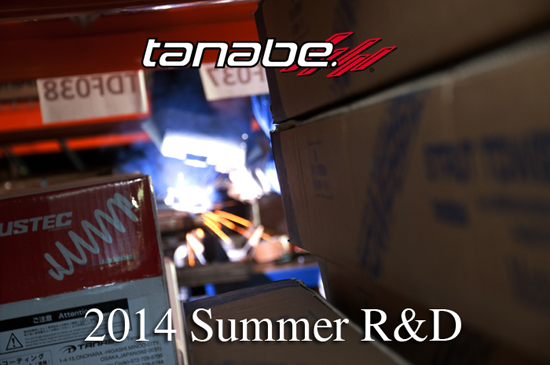 Still accepting applicants for this summer's Tanabe USA R&D session! With your help we can test newly developed parts that may go on sale in the future, so you can be a part of history in the making.
Requirements:
Vehicle must be local or driving distance from our office in Torrance, California.
Vehicle must be available for a minimum of 5 days.
Must be clean with minimal blemishes.
If you own one of these cars, you meet the criteria, and you're interested in participating in our R&D session, contact us at: [email protected] Attention: R&D
| | | | | |
| --- | --- | --- | --- | --- |
| Year | Make | Model | Category | R&D Date |
| 2014 | Lexus | IS350 (Non F-Sport & F-Sport) | Suspension / Exhaust / Chassis | TBA |
| 2014 | Lexus | IS250 (Non F-Sport & F-Sport) | Suspension / Exhaust / Chassis | TBA |
| 2014 | Lexus | IS350 AWD (Non F-Sport & F-Sport) | Suspension / Exhaust / Chassis | TBA |
| 2014 | Lexus | IS250 AWD (Non F-Sport & F-Sport) | Suspension / Exhaust / Chassis | TBA |
| 2013-2014 | Honda | Civic Coupe | Chassis | TBA |
| 2014 | Infiniti | Q50 (RWD & AWD) | Suspension / Exhaust / Chassis | TBA |
| 2014 | Infiniti | Q60 (RWD & AWD) | Suspension / Exhaust / Chassis | TBA |
| 2014 | Infiniti | Q70 (RWD & AWD) | Suspension | TBA |
| 2015 | Subaru | Impreza (WRX & STI) | Suspension / Exhaust /Chassis | TBA |
| 2013-2014 | Nissan | Sentra | Exhaust | TBA |
| 2014 | Nissan | Versa Note | Suspension / Exhaust | TBA |
| 2013 | Lexus | LS460 | Suspension | TBA |
| 2013-2014 | Lexus | GS350 Non F-Sport (RWD & AWD) | Suspension / Exhaust / Chassis | TBA |
| 2013-2014 | Lexus | GS350 F-Sport (RWD & AWD) | Suspension / Exhaust / Chassis | TBA |
| 2012-2014 | Toyota | Prius (Plug-in) | Suspension / Chassis | TBA |
| 2012-2014 | Scion | FR-S | Exhaust | TBA |
| 2012-2014 | Subaru | BRZ | Exhaust | TBA |
| 2011-2014 | Subaru | Imreza Sport Sedan (Non-WRX) | Suspension / Exhaust / Chassis | TBA |
| 2011-2014 | Nissan | Juke (RWD) | Suspension | TBA |
| 2013-2014 | Lexus | GS450h (Hybrid) | Suspension | TBA |
| 2010-2014 | Toyota | Prius | Chassis | TBA |
*For any AWD (all-wheel drive) applications please send inquires to [email protected]