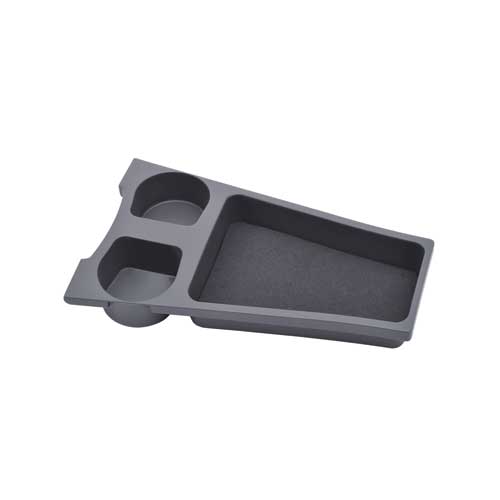 Carmate, Japan's most popular automotive accessory brand has recently released an exciting new interior storage solution for the 2010 and newer Prius. The Console Tray, a very simple part that can make a world of difference for anybody who:
• Drives a Prius
• Enjoys an easily accessible beverage
• Enjoys music
• Carries a cell phone
• Carries a wallet
The area under the gear selector in the 2010 and newer Priuses has always been seen as a bit of an anomaly, having been designed with the organizational properties of a bucket – sure, you could arrange the contents into neat little sections, but if you want "the bucket" to stay tidy – forget driving the car anywhere, if you want to eventually reach point B, I hope you don't have OCD. The Carmate Console Tray rids this otherwise great car of it's single glaring design flaw by dividing the area under the gear selector into three distinct partitions, two of which are circular. Yes, circular – like a cup. What this means for you, is that you can now bring two additional beverages wherever you may be going. The padded compartment just aft of the cup holders is perfect for your cell phone, wallet, ipod, or quite literally anything else that physically fits. Stop limiting the utility potential of your Prius, maximize your use of that otherwise very spacious and functional interior with the Carmate Console Tray today.